Yesterday was the Hindu festival of Krishna Janmashtami, also known as Janmashtami or Gokulashtami, an annual Hindu festival that celebrates the birth of Krishna, the eighth avatar of Vishnu. It is observed according to the Hindu luni-solar calendar, on the eighth day or Ashtami of the Krishna Paksha or the dark fortnight in Shraavana or Bhadrapad, depending on whether the calendar chooses the new moon or full moon day as the last day of the month, which overlaps with August/September of the Gregorian calendar.
It is an important festival particularly to the Vaishnavism tradition of Hinduism. Dance-drama enactments of the life of Krishna according to the Bhagavata Purana, such as the Rasa lila or Krishna Lila, devotional singing through the midnight when Krishna was born, fasting, a night vigil, and a festival on the following day are a part of the Janmashtami celebrations. It is celebrated particularly in Mathura and Vrindavan, along with major Vaishnava and non-sectarian communities pretty across India, each with their own unique spin in the festivities. This is followed by the festival of Nandotsav, which celebrates the occasion when Nanda Baba distributed gifts to the community in honour of Lord Krishna's birth. This is a festival celebrated in the Braj region where on hearing about Krishna's birth, all the villagers visited Nand Baba's house to see little Krishna and congratulate Mata Yashoda. Nand Baba distributed ornaments, clothes, cattle and various other valuables among saints and sages, who bestowed blessings on Lord Krishna in return. In Vrindavan this festival is celebrated in the Radha Vallabh Temple. Panchamrit abhisheka and Maha aarti are performed in honour of the Lord's birth. On this day people also celebrate 'Govinda' across many parts of India where devotees form small groups and break pots of butter called Maakhan Haandis tied to ropes on high rise buildings.
Krishna is Devaki and Vasudeva Anakadundubhi's son and his birthday is celebrated by Hindus as Janmashtami, particularly those of the Gaudiya Vaishnavism tradition as he is considered the Supreme Personality of Godhead. Janmashtami is celebrated when Krishna is believed to have been born according to Hindu tradition, which is in Mathura, at midnight on the eighth day of Bhadrapada month which happens sometime in August or September of each year according to the Gregorian calendar. Born in an era of chaos and rampant persecution, Krishna's birth was seen as a threat to life by his maternal uncle King Kansa and so to foil this threat, his parents Devaki and Vasudev were imprisioned by Kansa. Immediately following the birth at Mathura, his father Vasudeva Anakadundubhi takes Krishna across Yamuna, to foster parents in Gokul, named Nanda and Yashoda. This legend is celebrated on Janmashtami by people keeping fast, singing devotional songs of love for Krishna, and keeping a vigil into the night. After Krishna's midnight hour birth, statues of baby Krishna are washed and clothed, then placed in a cradle. The devotees then break their fast, by sharing food and sweets. Women draw tiny foot prints outside their house doors and kitchen, walking towards their house, a symbolism for Krishna's journey into their homes.
Hindus celebrate Janmashtami by fasting, singing, praying together, preparing and sharing special food, night vigils and visiting Krishna or Vishnu temples. Major Krishna temples organize recitation of ''Bhagavata Purana and Bhagavad Gita and many communities organise dance-drama events called Rasa Lila or Krishna Lila. The tradition of Rasa Lila is particularly popular in Mathura region, in northeastern states of India such as Manipur and Assam, and in parts of Rajasthan and Gujarat and these begin a few days before each Janmashtami.
Popularly called Gokulashtami in Maharashtra, the festival is celebrated with the breaking of the Dahi Handi the day after Janmashtami. Literally meaning "earthen pot of yoghurt". The festival gets this popular regional name from legend of baby Krishna who would seek and steal milk products such as yoghurt and butter and people would hide their supplies high up out of the baby's reach. Krishna would try all sorts of creative ideas in his pursuit, such as making human pyramids with his friends to break these high hanging pots. In Maharashtra, this Krishna legend is played out as a community tradition, where pots of yoghurt are hung high up, sometimes with tall poles or from ropes hanging from second or third floors of a building. Teams of youth and boys called "Govindas" go around to these hanging pots, climb one over another form a human pyramid, then break the pot. Its quite fun to watch, though can be very dangerous at times, especially when the pots are hung very high.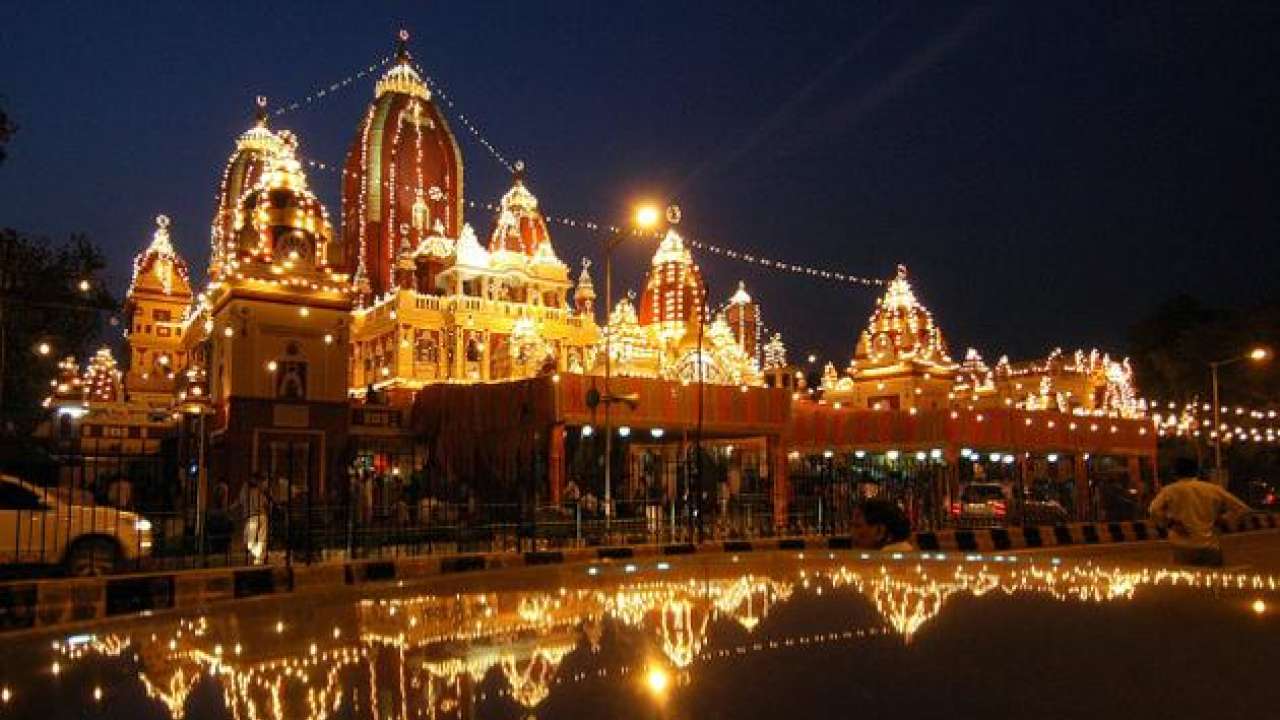 People in Dwarka in Gujarat – where Krishna is believed to have established his kingdom – celebrate the festival with a tradition similar to Dahi Handi, called Makhan Handi or a pot with freshly churned butter. Others perform folk dances at temples, sing bhajans, visit the Krishna temples such as at the Dwarkadhish Temple or Nathdwara. In the Kutch district, farmers decorate their bullock carts and take out Krishna processions, with group singing and dancing. The carnival-style and playful poetry and works of Dayaram, a scholar of the Pushtimarg of Vaishnavism, is particularly popular during Janmashtami in Gujarat and Rajasthan.
Janmashtami is the largest festival in the Braj region of north India, in Mathura where Krishna was born, and in Vrindavan where he grew up. Vaishnava communities here celebrate Janmashtami where Krishna temples are decorated and lighted up, attracting numerous visitors on the day, while Krishna devotees hold bhakti events and keep a night vigil.
Janmashtami is widely celebrated by Hindu Vaishnava communities of eastern and northeastern India. The widespread tradition of celebrating Krishna in these regions is credited to the efforts and teachings of 15th and 16th century Sankardeva and Chaitanya Mahaprabhu. They developed philosophical ideas, as well as new forms of performance arts to celebrate the Hindu god Krishna such as Borgeet, Ankia Naat, Sattriya and Bhakti yoga now popular in West Bengal and Assam. Further east, Manipur people developed Manipuri dance form, a classical dance form known for its Hindu Vaishnavism themes, and which like Sattriya includes love-inspired dance drama arts of Radha-Krishna called Raslila. The Shree Govindajee Temple and the ISKCON temples particularly mark the Janmashtami festival. Janmashtami is celebrated in Assam at homes, in community centers called Namghars and temples. According to the tradition, the devotees sing the Nam, perform pujas and share food and prasada.
Gokula Ashtami as the festival is called in South India is celebrated in Tamil Nadu with kolams or decorative pattern drawn with rice batter. Then footprints of baby Krishna are drawn from the threshold of the house till the pooja room, depicting the arrival of Lord Krishna into the house. A recitation of Bhagwadgita is also a popular practise. The festival is celebrated in the evening as Krishna was born at midnight. In Andhra Pradesh, recitation of shlokas and devotional songs are the characteristics of this festival. Another unique feature of this festival in Andhra Pradesh and Telangana is that young boys are dress up as Lord Krishna and visit neighbors and friends. Eatables along with milk and curd are prepared to make offerings to Krishna. Legend says that the Sree Krishna Idol installed in Guruvayur is from Dwarka which is believed to be submerged in the sea.
This festival is also celebrated with much joy and gusto outside of India where the diaspora lives. It is a public holiday in countries like Bangladesh and Fiji.
I used to enjoy celebrating it, especially when BB & GG were younger. We used to use them to make tiny footprints from our home's entrance to our home altar. Since it is not a holiday here in Singapore, I didn't make the traditional offerings, but would instead rustle up something after work and pray to baby Krishna. This year, I did make some of the traditional offering which was not too badam planning to make some of the traditional offerings, so wish me luck!