A couple of days back, I was struggling to write something when I chanced upon some writing prompts. One of them stood out for me which said to write about a time when the community came together and displayed solidarity. And since I am in Mumbai right now, this prompt seemed apt to showcase the Mumbai spirit that I have witnessed.
The first experience was during the bomb blasts that shook the city in 1993. This was the first time something like this had happened. On March 12, 1993, a series of bomb blasts brought Mumbai, then known as Bombay, to a wailing stop. Twelve bombs went off within two hours and ten minutes that rocked several parts of the city, killing over 250 people. The explosions were the first large-scale coordinated terror attack to be carried out in the world and were the first terror attack where RDX was used as an explosive. The first bomb exploded in the basement of the Bombay Stock Exchange (BSE), followed by blasts in the Fisherman's Colony in Mahim causeway, the Air India Building, Zaveri Bazaar, Hotel Juhu Centaur, Plaza Cinema, Hotel Sea Rock, Century Bazaar, Katha Bazaar, Worli and the Passport Office, over the next few hours.
My sister and I were in college then with my sister's classmates coming from different parts of the city as it was a specialised college. There was chaos in the city and public transportation was shut down and if I remember correctly the city came under curfew. Because of the blasts, telephone exchanges were disabled or rather restricted. We could make calls to only numbers from the same exchange or possibly the next one. Educational institutions and offices all shut down and everyone was asked to go home and stay home. My sister called home in a fix because two of her classmates stayed in different parts of the city, and not at a walkable distance, so they were worried they could not get home. So we asked them to come home and my mum prepared extra food for the girls. They stayed in our home for the next two or three days until their families could pick them up. So how did the community come into the picture? Since we could not call their homes to let them know they were fine in our home, we started a phone chain. We called as many numbers as we could dial and in turn, asked them to try the girls' numbers or if they could not get through, try to call as many people as they could and ask them, in turn, to try and call the girls homes. Everybody we called and they in turn called did this phone chain and by the end of the day, the parents of the girls knew about their whereabouts. This was the first time I saw what everyone always talks about the spirit of the city. Years later when I was working at my first job, I learnt from the old-time staff there that a bomb had blasted just meters away and they told me how they found burnt and charred pieces of flesh just outside the office complex. Everyone ran outside when heard the blast and tried to help as much as possible, both in terms of getting medical aid to those who needed it as well as food and water.
The next episode is a compilation of how people helped each other during the monsoon floodings that affect Mumbai every year. Since Mumbai is more or less reclaimed low lying land with an antiquated sewage system, inherited from the British during their rule, flooding during the monsoon season is par on course. The first one was in one of my first years of working. It had been raining for the whole day and by the time it was time to go home, the situation had become dire. I got on the bus and for some reason, fell asleep. When I woke up about 30 minutes later, I found that we were barely 10 minutes into a 30-minute journey and the bus had completely stopped. After waiting for another 10 minutes, I decided to just get off the bus and start walking. After walking for a while on a bridge, we realised that the bottom of the bridge was flooded and to add insult to the injury, there were open potholes. But then as we reached the bottom of the bridge, we found people from the nearby buildings helping those walking and walked them through the potholes, holding the hands of the elderly and those who had difficulty in walking. There were also women from the area with pots of hot tea and biscuits passing them around to the people. This was the pur Bombay spirit in action.
Another time was yet again when the rains played havoc in the city. This was either in 1999 or 2000 and I was working out of a small office of our company in south Mumbai. As before, it had started raining and the others in the office wanted to go back home. As the seniormost person in the office, I had to call the head office to get permission to leave around 2 pm. They gave us that permission after an hour after checking the situation. My sister who was also working close by suggested we take a taxi to get home and so we did. But because many areas of the city were waterlogged, we could only get as far as Dadar West, near Plaza to those who know the place. The taxi refused to move further because of the flooding and so we had to get out and walk. I remember at Khodadad Circle, the water was as high as my waist and I am not a very short person. Walking or rather wading in waist-deep water is pretty hard and by the time we got out of that area, we were exhausted. But there were so many people looking out for others during that hour-long walk that it didn't feel so bad. A cousin who was doing an internship was stuck in Dadar station because the trains stopped running. After waiting for hours for the trains to restart, she finally called my mother and came to our home because there was no way she would make it to her house in one of the northern suburbs. Another friend who also lived in a far-flung suburb tried to get a lift from a colleague to get to a point from where she could go home was stuck in traffic for almost 7 hours with the car not moving an inch. Some people in the buildings nearby then came down and asked women and children to come up to their homes to spend the night because it would not be safe and that's how she spent the night.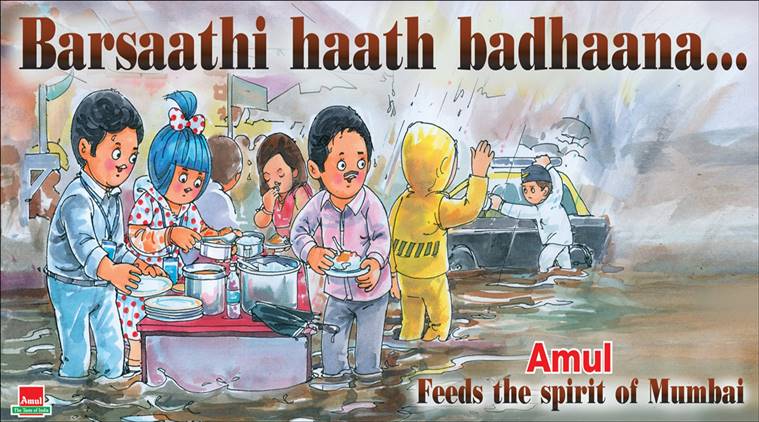 I could go on and on about stories about how Mumbai's people are super resilient and always come together, especially when there is a tragedy, but I think these stories showcase this wonderful city with a heart of gold. Mumbai is my hometown and even though I no longer live here, it will always be home and have a very special place in my heart.